---
This book is essentially a 30-year study of some of the world's greatest, most successful companies. The #1 takeaway I've always remembered from it is that if you want to be successful in business, you need a hedgehog concept. 🦔 See Lesson 1 to learn more! 👀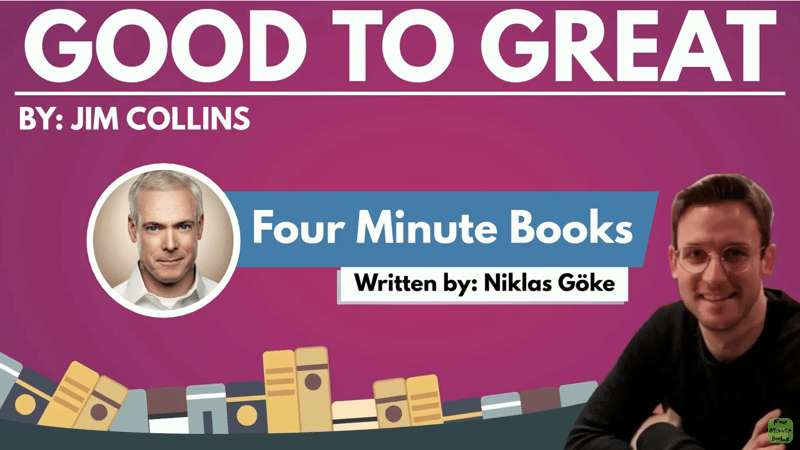 ---
1-Sentence-Summary: Boss It is a hands-on guide to entrepreneurship and what running business implies, from motivation, to hard work, consistency, great time management and a series of practical skills that are needed to fully succeed in this environment.
Top 3 Lessons:
Dream big, but also be willing to work hard.
Taking in debt can be a good thing for your company.
Customers are the most important factor for your business's success.
If you want to run your own business, this book is for you.
---
The Self-Discipline Blueprint by Patrik Edblad
1-Sentence-Summary: The Self-Discipline Blueprint delves into the subject of self-actualization and why it is crucial for humans to achieve a fulfilled and successful life by creating a routine and becoming focused, self-disciplined and hard-working.
Top 3 Lessons:
Mastering the four fundamentals of your life will make you more productive.
Establish your "why" and define your competence circle.
Forget about motivation, and just start working on your growth mindset instead.
If you want to become more disciplined, this book is for you.
---
The Comfort Book by Matt Haige
1-Sentence-Summary: The Comfort Book explores how depression feels like and its effects on our mind and body, and how we can overcome it by taking small, but significant steps in that direction, starting with finding hope, being more present at the moment, and acknowledging that we're enough.
Top 3 Lessons:
Don't trust your brain completely when you feel depressed.
When you feel low, find hope in someone else.
Saying no can be healthy, finding friends is a must, and acknowledging your pain is necessary to get over it.
If you want to overcome your negative emotions, this book is for you.
---
That's all for this week. Enjoy your weekend (and turkey)!
Happy reading,
-Nik
---
PS: The best way to support Four Minute Books is to get our lifetime deal.
For less than $40, you'll get early access to all our new titles, 800+ audios to download and keep forever, our entire, 1,000+ summaries catalog in PDF format, bonus guides, your own customizable library, and much more.