News from the Future
curated by Institute for the Future
Signals from the Future
😵  4.4 million Americans quit their jobs in September 
Rising COVID cases, child-care shortages, better wages elsewhere: all these and more prompted a record number of Americans to interrupt work and join the Great Resignation. That was September's report. What will October's bring?
✋  Hand gesture from TikTok credited with saving kidnapped girl 
Home isolation during the pandemic has increased risks for those in abusive relationships. So the Canadian Women's Foundation created a simple gesture to help protect them. And it works. The definition of "family" is changing.
😫  For global youth, climate-related depression is high 
A survey on climate anxiety given to 10,000 young people in 10 countries found that 77% called the future "frightening," 68% feel sad, 63% feel anxious, and 39% say they're hesitant to have children now. (We see zones of opportunity.)
👟  In Chicago and Milwaukee, folks are walking more 
A commercial real estate blog analyzed Apple mobility trends to discover that walking is enjoying a big surge in the U.S., with Midwest cities seeing the biggest rise: 122% above pre-pandemic levels. Celebrate urban life!
🐶  Chef-prepared dog food based on data collection 
Are you a pet owner with cash to burn? An Australian startup is selling custom-made, home delivered meals for spoiled K9s. The service runs about $300 a month—but at least your pooch will be safe.
Re-evaluation & Reinvention:
Keys to Success in the Coming Decade

Imagine three "time horizons" unfolding before you. The near horizon is about the here and now—a time for tactical execution. A few years out is the middle horizon, where strategic planning happens; long-range planning takes place at the far horizon. The Three Horizons framework is a simple, powerful model that makes strategic planning more effective by picturing the future as a dynamic process of continuous change on multiple time scales.

Here at IFTF, we've spent the last few years exploring just what it means to be a future-ready organization, and the Three Horizons framework was a vital component of that process. In this short video from our Annual Ten-Year Forecast event, IFTF Vantage Program Co-director Rod Falcon explains how the framework can help organizations, teams, and leaders navigate a world of accelerating change.
To experience the Three Horizons framework and other future-readiness tools, download IFTF's Playbook for Future-Readiness: a collection of strategies, tips, and tactics derived from interviews with foresight experts and practitioners from around the world.
IFTF Vantage 2022: The Decisive Decade
The world is currently facing a period of incredible short-term adaptation coupled with long-term uncertainty: the climate crisis, an ongoing pandemic, organizational and geopolitical instability, and calls to address long-standing systemic inequities. In the next ten years, we will see a radical reshaping of the global landscape—one that will require us to radically rethink everything we've previously relied on to cope with these issues. The questions are simple: Will we address them? Or will we become their victims?
The IFTF Vantage team has been re-evaluating and rethinking everything an organization relies on, from business models and metrics to incentives, technology, and workplaces. For a topic so vast, we sought to find ways to make the research and its implications manageable and valuable. The result? A set of thematic forecasts that provide structure for sustained and equitable growth as we enter this dynamic, decisive decade. To learn more about 2022–2032: The Decisive Decade: The Re-evaluation of Everything, including details about events, tools, reports, and other materials we'll be releasing, click here.
It's Time to Tap the Power
of Public Imagination

​​From Superstruct, our massively public foresight game, to exhibits at Dubai's Museum of the Future and San Jose's Tech Museum, IFTF has for decades created immersive experiences to unleash people's imagination and create new narratives that lead to lasting change. Our goal? Inspire individuals and organizations to think about the future, imagine what that future could look like, and apply that insight to make the world a healthier, more equitable, and more prosperous place.

That's why we're thrilled to announce two engaging, immersive public imagination projects that we hope you'll visit and tap into your imagination.

First, IFTF has p
artnered with the Smithsonian to create a first-of-its-kind exhibition at the Arts and Industries Building (AIB) in Washington, D.C. We teamed up with the award-winning LAB at Rockwell Group and visionary investor SoftBank Group Corp. to create "FUTURES Beacons," a large-scale technology interactive that opens on November 20. Visitors can create, debate, and shape their unique visions for the future through an interactive experience based on game design, psychology, and cutting-edge gesture controls.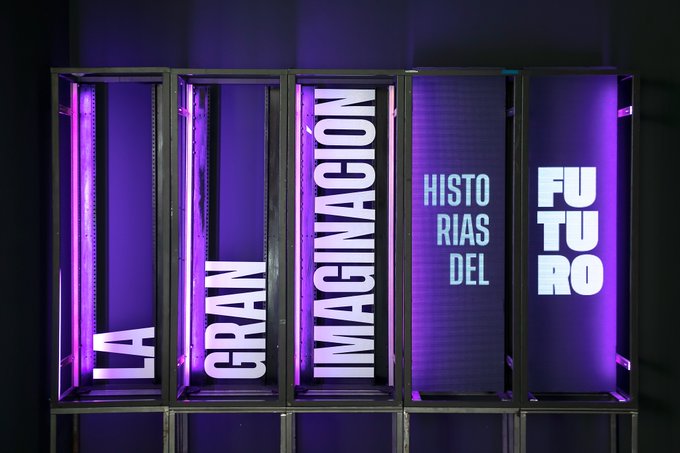 Across the Atlantic, we're also collaborating on the design of "The Great Imagination. Histories of the Future," an exhibition at Madrid's Fundacion Telefónica that runs until April 17, 2022. The exhibition immerses visitors in works of fiction from the 18th century to the present day, inspiring them to imagine alternative futures that mitigate the looming threat of climate change.
"Too often when we try to imagine a better world, our minds go blank," says IFTF's Jane McGonigal, director of game research and development. "What future, exactly, do we want to wake up in? We can learn to fill in those blanks with concrete and surprising ideas that are inspired by real innovations happening today. And it's training our imagination that can help us build authentic hope for the future, even in the face of urgent global challenges such as pandemic recovery and climate change."
Your imagination is sure to lead you to new ideas, technologies, stories, art, and ventures that can make the future better for us all. Let it out to play!
FUTURES Beacons opens November 20, 2021.
The Great Imagination. Histories of the Future runs until April 2022.